Safeguarding & Welfare
What is Safeguarding and Child Protection?
Safeguarding is the action that is taken to promote the welfare of children and protect them from harm.
Safeguarding Means:
protecting children from abuse and maltreatment
preventing harm to children's health or development
ensuring children grow up with the provision of safe and effective care
taking action to enable all children and young people to have the best outcomes
Safeguarding children and child protection guidance and legislation applies to all children up to the age of 18. Child Protection is part of Safeguarding and promoting welfare. It refers to the activity that is undertaken to protect specific children who are suffering, or are likely to suffer, significant harm.
Staff members at The Marist Catholic Primary have a responsibility to provide a safe environment in which children can learn. They have a responsibility to identify children who may need extra help or those who are likely to suffer significant harm (Keeping Children Safe in Education, April 2014).
Through our curriculum we teach children to stay safe and happy. We encourage the understanding that any problem or worry that they may have is legitimate, and to share their worries, big or small with their trusted adult; at home; school or with Child-Line.
Key Contacts:
Designated Safeguarding Lead – Emily Fanzo, Head of School - dsl@marist.surrey.sch.uk.
Deputy Designated Safeguarding Lead – Leanne Oliver, SLT, Deirdre Turner, ELSA, Jenna Cannon, ELSA, Jeanette Rayner, Extended Schools Manager, Rebecca Stadie, SEND Assistant
Chair of Governors & Link Governor- Rhoda Breakell - cog@marist.surrey.sch.uk.
If the concern relates to the Headteacher, please report this to the CEO Xavier Catholic Education Trust, James Kibble - j.kibble@xaviercet.org.uk.
Sometimes we may need to share information and work in partnership with other agencies when there are concerns about a child's welfare. We will ensure that our concerns about our pupils are discussed with his/her parents/carers first unless we have reason to believe that such a move would be contrary to the child's welfare.
If you are concerned about a child's welfare, please record your concern, and any observations or conversation heard, and report to one of the Designated Safeguarding Leads as soon as possible the same day.
Do NOT conduct your own investigation. If your concerns relate to the actions or behaviour of a member of staff (which could suggest that she/he is unsuitable to work with children) then you should report this to the Head Teacher (or the Chair of Governors if the concern relates to the Head Teacher) – who will undertake the appropriate actions.
Below are a number of links that relate to safeguarding at The Marist Catholic Primary. If you have any questions about safeguarding please come and speak to Mrs Fanzo, Miss Oliver, Mrs Turner, Ms Cannon, Mrs Rayner or Mrs Stadie. You can also visit the NSPCC website by clicking on their link for extra resources and information.
Child Protection and Safeguarding 2023
https://www.nspcc.org.uk/keeping-children-safe/
https://www.gov.uk/government/publications/working-together-to-safeguard-children--2
Edibles Information for Parents
https://www.gov.uk/government/publications/keeping-children-safe-in-education--2
NSPCC Children's Services
Our services are crucial in our fight for every childhood.
We transform lives by working directly with children and families at our service centres. But it's about more than those children and families we help face-to-face. Find out how we develop new ways to keep more children safe.
The NSPCC have an initiative called "PANTS" to help parents teach their children to keep themselves safe. On the website there are downloadable booklets for children and parents. There are also copies of the downloads available in other languages and specific booklets to support children with ASD and other learning difficulties.

NSPCC "PANTS" initiative
The Prevent Strategy
Protecting children from the risk of radicalisation is seen as part of schools' wider safeguarding duties, and is similar in nature to protecting children from other forms of harm and abuse.
From 1 July 2015, schools are subject to a duty under section 26 of the Counter-Terrorism and Security Act 2015, to have "due regard to the need to prevent people from being drawn into terrorism". This duty is known as the Prevent duty.
The Government's Prevent strategy can be found at the following address: www.homeoffice.gov.uk
Three key themes:
Safeguarding vulnerable individuals through the provision of advice and support and intervention projects.
Working closely with institutions such as Universities, Schools, Prisons, Health, Charities and faith establishments.
Challenging terrorist ideology by working closely with other local and national agencies, partners and our communities
Preventing Extremism in Schools and Children's Services
Email: counter.extremism@education.gsi.gov.uk
Telephone: 020 7340 7264
https://www.gov.uk/government/publications/protecting-children-from-radicalisation-the-prevent-duty
E-Safety
https://www.thinkuknow.co.uk/parents/
https://saferinternet.org.uk/guide-and-resource/parents-guide-to-technology
Anti Bullying
We are a telling school and the school is committed to preventing and dealing with any incidents of bullying. As part of the PSHE curriculum children learn about what bullying is, the different forms of bullying as well as the effect it can have on the victim. The school takes the opportunity to reinforce this message annually during national Anti-Bullying week. The school has a trained ELSA (Emotional Literacy Support Assistant) who works with pupils 1:1 to develop their social skills. Full details of the school's approach to bullying, roles and responsibilities and how bullying is reported and responded to are outlined in the Anti-Bullying Policy which can be found within our Behaviour and Anti-Bullying Policy click here for link to policy.
Is it Bullying?
The school defines bullying as: the repetitive, intentional hurting of one person or group by another person or group, where the relationship involves an imbalance of power.
Rude

Mean

Bullying

Unintentional

Hurtful

One Off

Intentional

Hurtful

One Off

Intentional

Hurtful

Happens more than once even when you ask them to stop or show that you're upset.
Our Child Friendly Anti-Bullying Policy written by our School Council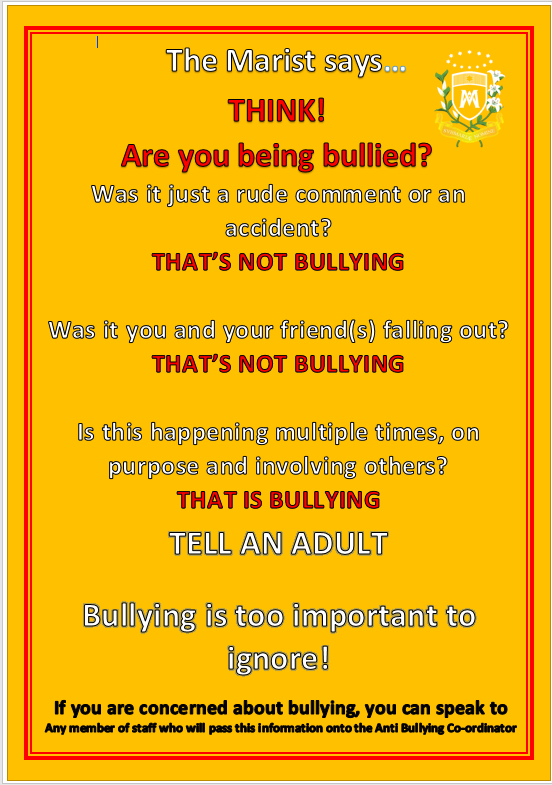 Domestic Abuse - Information and Support
National Services
If you, or someone you know, have been affected by domestic abuse or violence, the following organisations may be able to help. If you are in immediate danger, you should dial 999. Call the Police on 101 if it is a non-emergency situation.
The National Domestic Abuse Helpline – Run by Refuge
The 24-hour National Domestic Abuse Helpline, run by Refuge is for women experiencing domestic abuse, their family, friends and others calling on their behalf. Call: 0808 2000 247.
Women's Aid
Women's Aid provides practical support and information for women experiencing domestic violence via the Survivor's Handbook and local domestic violence services. Visit their website: https://www.womensaid.org.uk/.
Men's Advice Line – Run by Respect
Men's Advice Line offers confidential advice for men experiencing domestic violence from a partner or ex-partner. Call: 0808 801 0327 (weekdays 9am-5pm).
Respect Phoneline
Respect Phoneline offers confidential advice and support to help domestic violence perpetrators – Freephone 0808 8024040 Monday to Friday, 9am-8pm or for email support - info@respectphoneline.org.uk Saturday (10am-12pm) and Sunday (4pm-6pm).
Surrey Domestic Abuse Helpline – Provided by Your Sanctuary
The 'Your Sanctuary' domestic abuse helpline runs from 9am till 9pm, 7 days a week offering listening support, information and signposting. Your Sanctuary also runs two safe houses for women and children fleeing from domestic abuse, and a specialist male support service available to men across Surrey. Call: 01483 776822.
Victim Support Surrey
If you have been affected by crime, please call The Victim & Witness Care Unit on 01483 639949. If you need support outside of their open hours, call their support line for free on 0808 1689111 or request support via their website - https://www.victimsupport.org.uk/help-and-support/get-help/request-support/. You can also access Victim Support's free live chat for 24/7 support - https://www.victimsupport.org.uk/help-and-support/get-help/support-near-you/live-chat/.
Live Free from Fear
This is a helpline run by Welsh Woman Aid and supports men and woman and provides support in English and Welsh. Call 0808 8010 800, 24 hours a day, 7 days a week. You can also text them on 07860 077333 or email info@livefearfreehelpline.wales 24 hours a day, 7 days a week.
National LGBT & Domestic Abuse Helpline
This helps people who have or are experiencing domestic abuse. They also help people who are supporting a survivor of domestic abuse; friend, families and those working with a survivor. Call 0800 999 5428.