School Clubs

Teacher Led Clubs 2023/2024
We offer the following teacher led co-curricular clubs at the Marist for the Autumn Term 2023 and parents and carers can request a space for their child in one of these clubs by responding to Mrs Sergent on admin@marist.surrey.sch.uk. Parents will receive confirmation of their child's space and the dates that individual club will be running for the term ahead;
Autumn Term 2023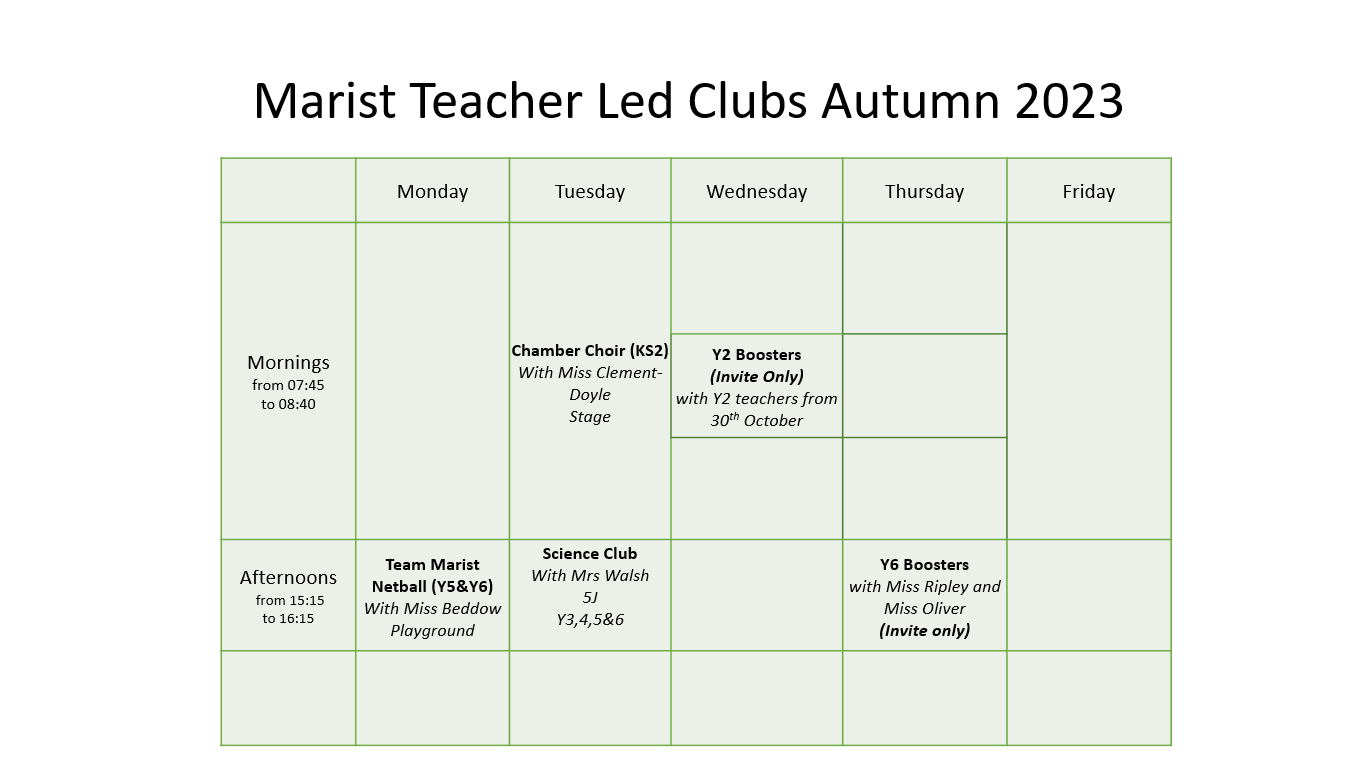 The morning teacher led clubs usually run from 07:45 to 08:40. Children should be brought to the hall doors by an adult and will be met by the teacher - please ensure they have had breakfast before they arrive and are on time.
The after-school teacher led clubs usually run from 3.15pm to 4.15pm or 4.30pm. Children should be collected promptly from the hall doors and may bring a healthy snack to have at the end of the school day before the club starts. Please note that Year 5 & 6 children are not allowed to leave school unaccompanied after a club.
If you have any queries, please email Mrs Sergent on admin@marist.surrey.sch.uk or contact the school office.
Externally Provided Clubs 2023/2024
There are lots of exciting clubs on offer for pupils at The Marist.
Please book directly with all club providers (see details below) and ensure your child has the appropriate equipment for the after-school sports club, as well as a named water bottle. Children attending a club are permitted to wear PE Kit for the whole day. .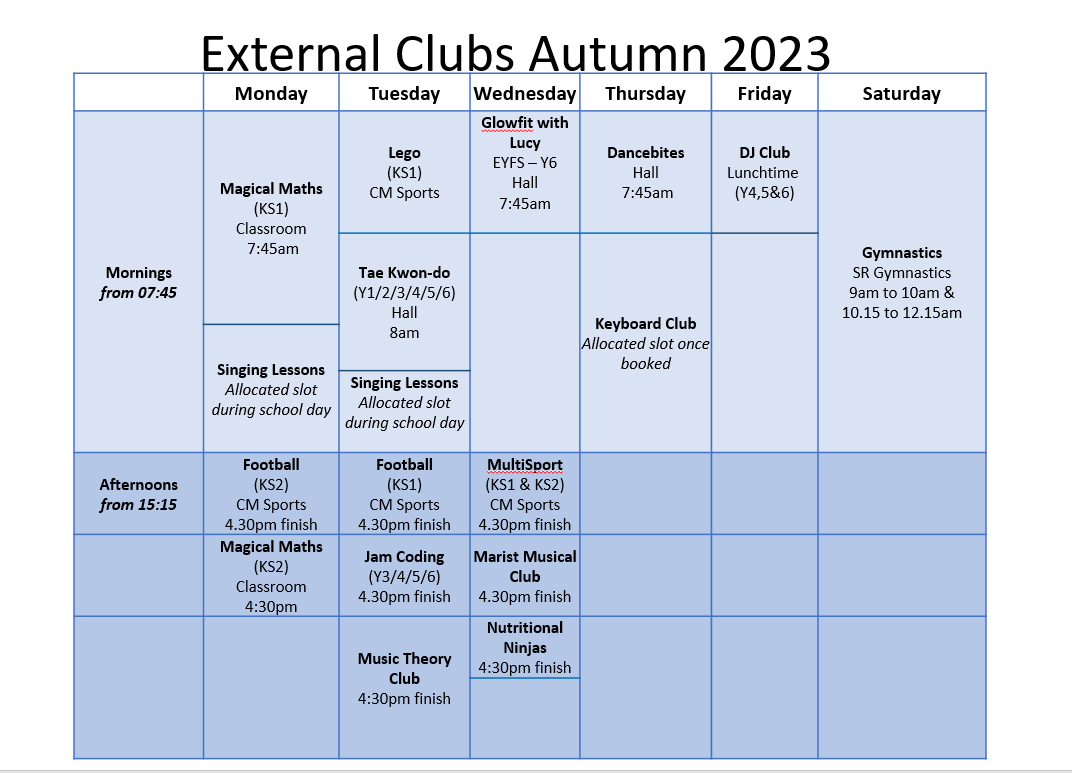 To book or contact any of the external club providers please see the following website links and contact information:
CM Sports: tel - 02392 987881, email - info@cm-sports.co.uk (KS1 & KS2 Football, Lego (Y1-3) & Y1 to Y6 Multi-Sports)
(Jam)Coding Club: tel - 01372 701011, email - info@jamcoding.co.uk (KS2 Coding Club, Tuesday After School)
Nutritional Ninjas: Online Bookings - https://nutritional-ninjas-limited.classforkids.io/ (Wednesday afterschool)
Surrey Arts: tel: - 01483 519303, email - jade.hamilton@surreycc.gov.uk (KS2 Keyboard Club, DJ Club, singing lessons Thursday morning)
Dancebites: tel - 07956 244 939, Online Bookings - www.dancebites.com/class-registration/ (Street Dance, Thursday mornings school Years 1 to 6)
Glowfit: tel - 07592 473 119, email - glowfitwithlucy@hotmail.com (Wednesday morning all ages)
Tae Kwondo - London TKD - Tel - 07553 065 214, email - hello@london-tkd.co.uk (years 1-6) Tuesday morning
Music Clubs with Miss CD - Email - hclementdoyle@marist.surrey.sch.uk
Magical Maths - Tel - 07423 637083, online booking www.magicalmathsclub.com (Monday am KS1 Monday pm KS2)
General Club Info
For outdoor clubs, if it is raining, an indoor space (such as a classroom or the main hall) will be made available and the activity will be adapted accordingly for the indoor space available. Should a club need to be cancelled for any reason, the club provider will contact you directly. If this is at short notice, the school office will also endeavour to telephone parents as necessary.
Children should be collected from the main hall doors at the time their club finishes unless they are booked to attend an Extended School session after their club. Please inform the club provider if your child needs to be signed into After School Club after their activity session.
For morning sessions please bring your child to the main hall doors to be signed in at 07:45/08:00 by the club provider (not at the Breakfast Club sign in table).
For any enquiries or bookings for our Extended School 'Breakfast Club' and/or 'After School Club' please see the 'Extended School' page or contact Mrs Sergent via email at admin@marist.surrey.sch.uk
Holiday Activity Clubs
CM Sports offer fun and exciting Holiday Clubs for children in years 1 to 6. More details can be found on their website.